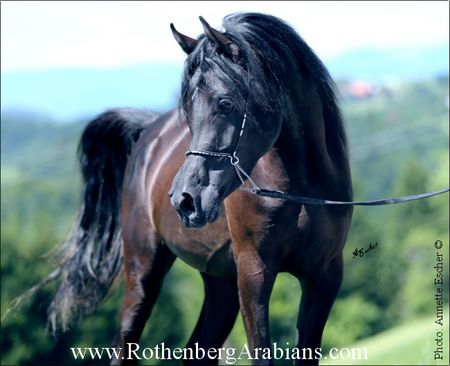 GR Nashad x Shaylah Bint Iman
13.03.2017 | Straight Egyptian Stallion | Black
GR Nashad (exp. Kuwait; black gold-premium stallion by black show-winner GR Faleeh (exp.Kuwait)) x Shaylah Bint Iman (Multi-Champion Classic Shadwan x Elite-mare Bint Iman EAO);
Exotic typey young black stallion with good body and super movements, very showy! First foals 2020!
By our homebred exotic black gold-premium stallion GR Nashad (exported to Kuwait; by black show-winner GR Faleeh out of exotic Classic Shadwan-daughter GR Nashidah) out of our special exotic broodmare Shaylah Bint Iman which is by our famous foundation-stallion Classic Shadwan!
Special pedigree, motherline Dahman Shahwan! GR Imad's grandmother Bint Iman is an German Elite-mare and was imported from Egypt (EAO)!
GR Imad is a full-brother to our gorgeous black stallion GR Ishad!
For serious interest please e-mail to Escher.Rothenberg@t-online.de or call at +49 / (0) 90 91 / 37 07. Other horses available, please let us know what you are looking for!
Annette Escher Rothenberg Arabians Germany
Tel: +49 9091 3707
Website: www.RothenbergArabians.com
E-mail: Escher.Rothenberg@t-online.de
Posted on 12.14.19 by Annette Escher Rothenberg Arabians Germany