Naseem Al Rashediah (Al Adeed Al Shaqab x Nabaweyyah Ezzain, by Ansata Almurtajiz) stood out successfully at the Straight Egyptian World Cup (SEWC) in Italy garnering Unanimous Gold Champion Senior Stallion and Best Sire award. Bred and owned by Al Rashediah Stud, Bahrain, Naseem Al Rashediah He received the highest score of the show: 93,88 points, including a full range of '20s for 'Head and Neck' and 'Type'. As one of the few Straight Egyptians, the 2014 born stallion competed successfully on an international level.
The stallion also received the Best Sire Award as he sired both Gold Champion Yearlings: Ayah Al Fala (x Zumorroda Al Waab) and Salam Akmal (x Salmma BKV).
A maternal half-brother to Naseem Al Rashediah, Al Ghazi Al Rashediah, sired by Jamil Al Rayyan, took Gold with the Junior Colts with Naaeem Al Waab and Moez Ezzaman winning Silver and Bronze respectively.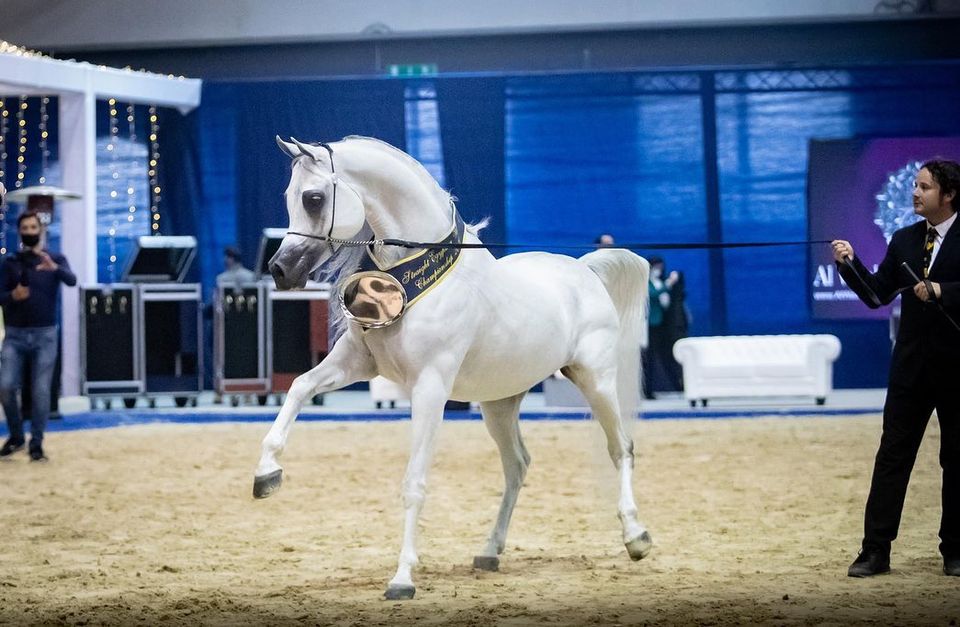 [Stallion Naseem]
The Senior Mare Championship saw another unanimous vote of the judge's panel. It was a truly enchanting moment to see all the white beauties competing against the backdrop of the nicely built VIP area with its sumptuous upholstered furniture and sofas, the midnight blue background and the numerous chains of light casting a soft atmospheric light.
With the highest score of all females, Nardene Al Naif (Sahib x Johara Al Naif, by Ansata Halim Shah) was unanimously voted Gold Champion Senior Mare, bred and owned by Al Naif Stud, Qatar.
[Mare Nardena]
Al Sayed Studs Loubana Al Qasem (Al Ayal AA x Loubana, by Laheeb) took Silver home to Saudi-Arabia. The Safir Al Rayyan daughter Safira Al Dohul (Safir Al Rayyan x Saja Al Shaqab, by Al Adeed Al Shaqab) was awarded Bronze, much to the delight of her owner Al Nawasi Stud, Qatar. Her two-year-old daughter Lian Al Qasem, still owned by Al Qasem Stud, Israel, and sired by Jawhar Al Qasem, garnered SEWC Bronze Champion Junior Filly.
Lian Al Qasem was bested by AB Deem (Al Ayal AA x Dalal Zamani) and Asinaat SA (Shams Sharav AA x Amasi Al Ayal). Silver winner AB Deem is bred by Abhaa Arabians, Kuwait, and owned by Al Shaqab, Qatar. Gold winner Asinaat SA is bred by Sanad Mansour, Israel, and owned by Abhaa Arabians.
Salayel Stud, Saudi-Arabia, achieved a double success with Bebars El Farida (Imperial Baarez x Salma, Royal Colours) and Saeid Al Farida (Madheen Al Nakeeb x Imeila, by Imtaarif) winning Silver and Bronze in the Senior Stallions Championship. Both are bred by El Farida Stud, Egypt.
Susanne Bösche