[Image: Nabeel Al Khaled, winner of the Montefalco Arabian Summer Festival, photo by Monika Savier]
21.Elran Cup
The 21.edition of the Elran Cup was held against the background of Castle Alden Biesen in Bilzen, Belgium, end of July. The show offered classes for Straight Egyptian Arabians, too. Eight SE horses came in front of the judges. Hanaya Arabian's senior stallion Safeer By Sibilla (MG Magic Ghassan x Magic Sibilla), bred by Marinella Aragnale, Italy, achieved the highest score. The stallion had won the senior championship of the European show two weeks earlier in Ströhen, Germany. Safeer By Sibilly traces back to Somaia by Anter out of Abla (Farida dam line), a famed combination in Egypt.
Arabian Horse Weekend
The Arabian Horse Weekend took place at the new location Dutch Equestrian Estate at Schaijk end of August. 13 Straight Egyptian horses were in scripted for the SE classes. The Egyptian stallion Safeer By Sibilla (MG Magic Ghassan x Magic Sibilla) repeated his victories in Ströhen and at the Elran Cup; the Italian bred grey stallion, owned by Hanaya Arabians, Switzerland, was named the Best Egyptian with 92.08 points.
[Image: Safeer, photo by Jan Kann]
Next was 2 years old Dana Al Rashediah (Jamil Al Rayyan x Maleeha), bred and owned by Al Rashediah Stud, Bahrain, with 91,50 points. Through her dam Maleeha, Dana Al Rashediah traces back to Moniet El Nefous through Monisa RSI.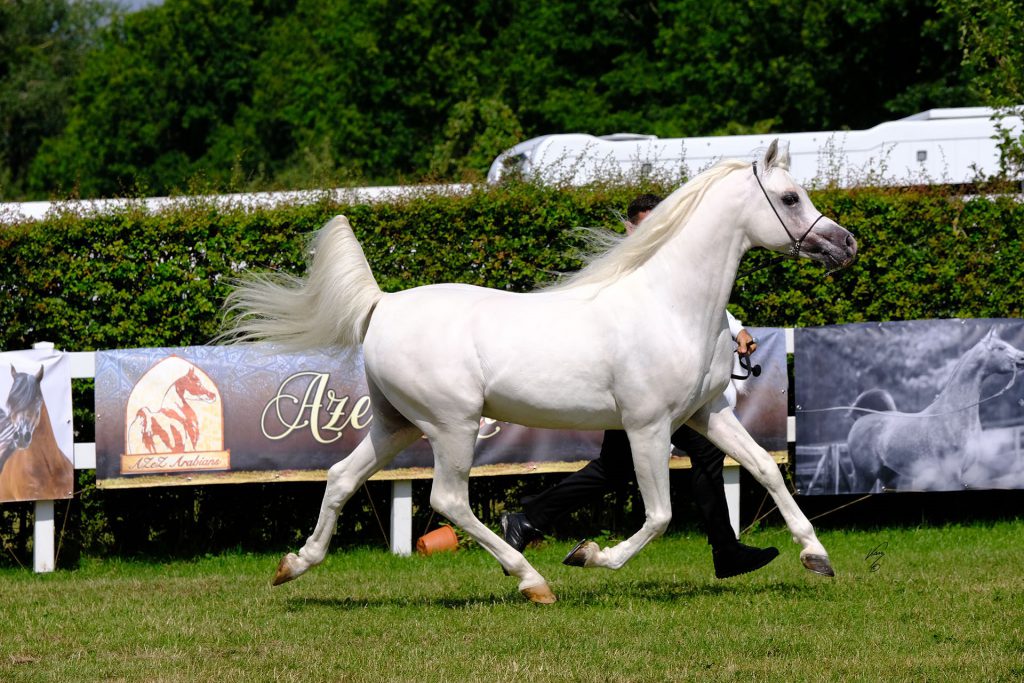 [Image: Dana, photo by Jan Kann]
The winner of the Senior Mare class, OEJ Mona Mira (Simeon Sharav x Monet KA), received 91,17 points. The 2011 born grey mare is bred by Orly and Ceylon Joseph and owned by Amira and Eiad Safady. OEJ Mona Mira traces back to Neamat – Hemmat – Maysouna – Shams.
Montefalco Arabian Summer Festival
End of August, the lovely historic area of Montefalco, Umbria, Italy, hosted the Montefalco Arabian Summer Festival. Next to the international C show and the Al Jassimya Amateur Challenge, international classes for Straight Egyptians were offered. Out of the eight SE horses, the 3 years old filly, Asinaat SA received the highest score. The grey Shams Sharav AA daughter is bred by Sanad Arabians and owned by Abhaa Arabians, KSA. Through her dam Amasi Al Ayal (Al Ayal AA x Maal Sabha), Asinaat SA traces back to Ikbal (by Seef) out of the unforgettable Adaweya (Anter x Abla).
Purosangue Arabi a Bergamo
At the first weekend of September 17 Straight Egyptian horses took part in the Purosangue Arabi a Bergamo show. The highest score was given to the 2013 born Safira Al Dohul (Safir Al Rayyan x Saja Al Shaqab), owned by Al Nawasi Stud. Through her dam Saja Al Shaqab, Safira Al Dohul is a granddaughter of World Champion Al Adeed Al Shaqab and traces back to Ansata Nile Mist, herself out of famed Falima (Ansata Ibn Halima x Fa-Habba), founder of the well-known Nile family.
Al Shaqab Stud, Qatar, received the award for the winner of the SE Yearling Colt class with Shawwaf Al Shaqab, sired by Bahhei Ezzain and out of Nouf Al Shaqab. Again, a daughter of Al Adeed Al Shaqab but this time tracing back to Meseda (Maher x Nagwa – Hind dam line).
Jazeya Al Rayyan, bred and owned by Al Rayyan Farm, was the winner of SE Yearling Fillies. A paternal half-sister to Shawwaf Al Shaqab, Jazeya Al Rayyan is out of Hanoof Al Rayyan (Fares Al Rayyan x Noof Al Rayyan), tracing back to Noha (Hadban Enzahi x Nadia – Farida line).
The winner of SE fillies 2 – 3 years old was bred and owned in Italy: Unica PPJ, bred and owned by Antonio Prisco. The sire of the 2018 born grey is World Silver Champion Junior Male Naseem Al Rashediah. The dam SL Preziosa (Ansata Malik Shah x Ansata Palmyra) traces back to Ansata Bint Sameh (Farida line).
Aaron de Pigall, the winner of SE Senior stallion, was bred and owned by Az. Agr. Graziano Pigato, Italy. Through his sire FA Nile Safir, Aaron de Pigall is a paternal grandson of Ansata Nile Echo. His dam MAS Magidaa is by Al Adeed Al Shaqab and traces back to Tifla (Nazeer x Elwya – Bint El Bahrein line).
Article by Susanne Bösche